At Dr. Jazayeri clinic, our entire team is dedicated to your comprehensive dental
care with advanced technology. We look forward to seeing you and your lovely smile.
DR. JAZAYERI
Dr. Jazayeri has been the president of Dr.F.Jazayeri Dental Professional Corporation since October of 1996. Graduating in 1982, Dr. J (as his patients like to call him) has been dedicated to his continuing education taking a variety of courses at University of Toronto School of Dentistry and University of Western Ontario Faculty of Dentistry among many others. He has been a member in good standing of the Royal College of Dental Surgeons of Ontario, Canadian Dental Association and Ontario Dental Association since 1996.
Dr. J is known among his patients for his gentle touch making all procedures as manageable and pain-free as possible. His patience and calm demeanor are palpable, even the most anxious of dental clients feel at ease in Dr.J's chair. Dr. J believes in establishing long term meaningful relationships with his clients expanding his extended family.
Dr. J has a great passion for the arts which keeps him busy when he is away from the office. He enjoys playing the flute, saxophone, and piano. He is always looking for a new challenge which usually presents in learning to play a new instrument! Dr. Jazayeri is looking forward to meeting you and expanding his dental family.
Sogol Jazayeri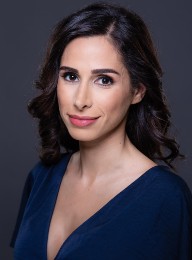 Registered Restorative Dental Hygienist, Treatment Coordinator
Sogol graduated from The Canadian Academy of Dental Hygiene in 2009 and achieved a post-graduate certificate from George Brown College in 2012. She has also attended University of Toronto Bachelor of Science program. She has taken on the role of treatment coordinator and most recently restorative dental hygienist (RRDH). She can accommodate all your dental needs from educational to financial. The restorative dental hygienist duties are in compliance with the standards of practice approved by the College of Dental hygienists of Ontario and listed in the proposed RCDSO Standards. Under the supervision of a dentist she may place, finish, and adjust amalgam, composite resin and temporary restorations, prepare and cement temporary crown/bridges, take final impressions, and perform orthodontic procedures
Fariba Eshghi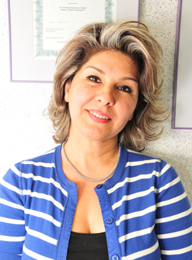 Full Time Administrator
Dr. Jazayeri has been very fortunate to have Fariba working with him for over 10 years. Fariba trained as a Dental Assistant and often assists Dr.J when he needs an extra hand. Fariba is our receptionist and patient coordinator helping you schedule appointments, process insurance claims, and assist you with financial payments. Her very caring and helpful manner assures our clients will feel welcome and comfortable in our practice. She enjoys spending time with her family including the newest edition Fancy, their Shih Tzu Terrior.
Dr. Jazayeri and his team believe and follow the eight basic human needs as per adaptation to dental hygiene of Maslow's hierarchy of needs. Our team works together and with other health professionals to ensure your needs are met.
The 8 basic needs are as follows:
Wholesome facial image

Protection from health risk

Biologically sound and functional dentition

Skin and mucous membrane integrity of the head and neck

Conceptualization and understanding

Freedom from head and neck pain

Freedom from anxiety and stress

Responsibility of oral health
I have been a client of Dr. Jazayeri for about 10 years. I am very pleased with the kind of service they provide. Even though I live in Richmond Hill and there are many dentists working here I rather stay with Dr. Jazayeri. All the staff are extremely kind and helpful. They make you feel like you are their guest. I have recommended them to a few of my friends and they are also using their services.
Dr. Jazayeri is a real expert and he perfectly knows what he is doing and how to do that efficiently and cost worthy. I never had been turned down or felt that I am not appreciated.
I am extremely happy with the outcome of some cosmetic dentistry, which Dr.Jazayeri had conducted. I feel that he is very talented, meticulous and caring and, I would happily recommend him to anyone looking for a first class Dentist!
I am very pleased with the outstanding professional services I have received from Dr.Jazayeri and his staff, everyone is so friendly and caring. I had a great experience.
I am very pleased with the outstanding professional services I have received from Dr.Jazayeri and his staff, everyone is so friendly and caring. I had a great experience.
If you have any questions, concerns or would like to schedule an appointment, please contact us using the quick contact form.